Purpose
Increase of fare collection

Increase of service quality for passengers.

Improvement of financing system of Land Passenger Transpor.

One strategy to improve controllability of city transport system.

Available application of unified technology solutions for transport operators.

Scaling out the development of transport infrastructure - connecting new transport operators, a level playing field.
System Architecture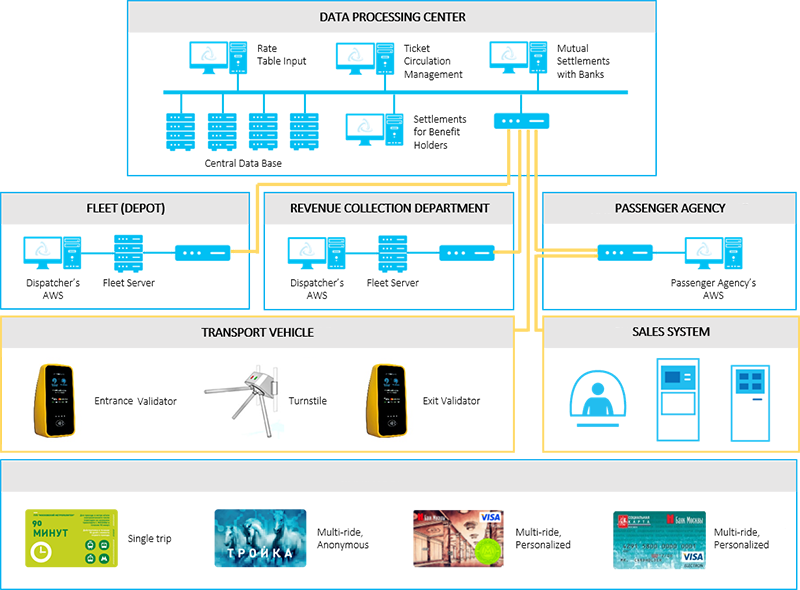 Benefits of System
Increased reliability:
High fault tolerance of system at high loads: in the working conditions of the largest megapolises of Russia and CIS countries.

In the Russian and European markets, it is the only system being able to process a huge amount of data on a day-to-day basis – more than 15 million transactions.
Enhanced functionality:
Creating one single data space: Automatic accounting every passenger irrespective to the used type of ticket medium and transport card.

Limitless opportunities for integration: Interfacing with any information system, including systems based on SAP and 1C.
Flexible Settings:
System designing based on monitoring passenger flow data in order to increase efficiency of city/region route network: Available to select the most effective system configuration in terms of date on quantity and categories of passengers carried, on routes and time of carriages.

Development of system of any complexity and configuration in accordance with the customer needs.
Route Network Optimization based on passenger flow monitoring